Rebel Bag Co.
Premium, high quality, hand crafted bags with phenomenal designs for every type of thrower out there.
Matt & Hannah Bason

We are Matt & Hannah Bason. We live in Graham, NC with our 3 children. Noah is 13 & our twin girls, Kaylee & Ali are 11. We are thankful to be here on this journey with each and every one of you. Thank you for supporting us. We wouldn't be REBEL without YOU!

Rebel Bag Co.

Owners

Rebel

Rebel Bag Co.

Official Mascot
#RebelsWithACause
"If you're going to rebel, do it with purpose."
-Unknown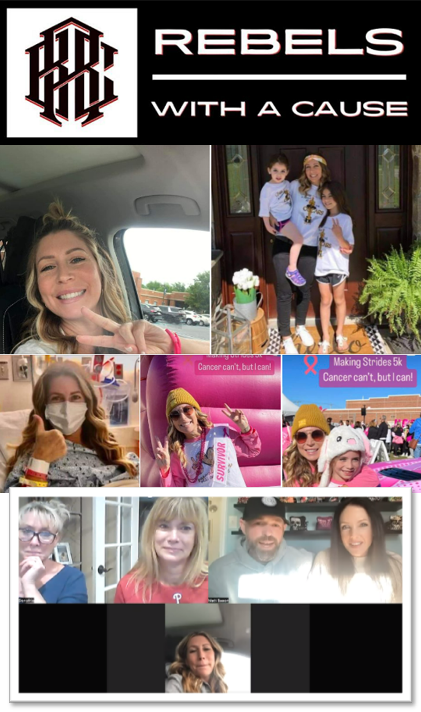 $12,500 Raised!!
- October 2022
Rebels With A Cause - Jamie
In January after a mammogram & an ultrasound detected a tumor, Jamie was officially diagnosed with breast cancer. She has spent the last several months recovering from major surgery, chemo treatment, scans, numerous doctor visits & more. She also has a heart condition that has complicated the matter all the more. Because of the time this was requiring of her, she has had to stop teaching for now & is trying to get her career started in real estate.
To know Jamie is to absolutely LOVE her. She brings joy to each & every person she meets. She's the kind of friend you want in your corner. She's always a fan of the underdog & is quick to give everyone another chance. Above all, she is one incredible mother!
She never cares to talk about the endless medical bills she might be facing, the pain she's had to endure or the various difficulties that came with this diagnosis. She's fighting this battle with a smile on her face & nothing but an attitude of gratitude. If she knew we were planning something like this, she would demand this go towards someone else.. that's just who Jamie is!
Rebels With A Cause was proud to organize a fundraiser for Jamie. Coordinating donations made from businesses and individuals both we were able to raffle off over 30 prizes and raise $12,500.
Click Here to see Fundraiser on Facebook